Crocs are the most iconic shoes that combine comfort and durability with a hint of unique style. Like any other pair, Crocs require a routine scrub to maintain them in perfect shape. There are a variety of ways to clean Crocs, and in this article we'll go through each of them in depth.
The effectiveness of each technique primarily depends on your Crocs type and the severity of the stain. Clearing a few minor splotches from the uppers just takes a minute or two, but digging through the grooves on the bottom of the outsole and in the nooks behind the sling clasp might take a bit longer.
Plus, these cleaning methods work just as well on Crocs knockoffs, so you can easily wash Crocs look alikes using our comprehensive cleaning Crocs master guide too.
What are Crocs?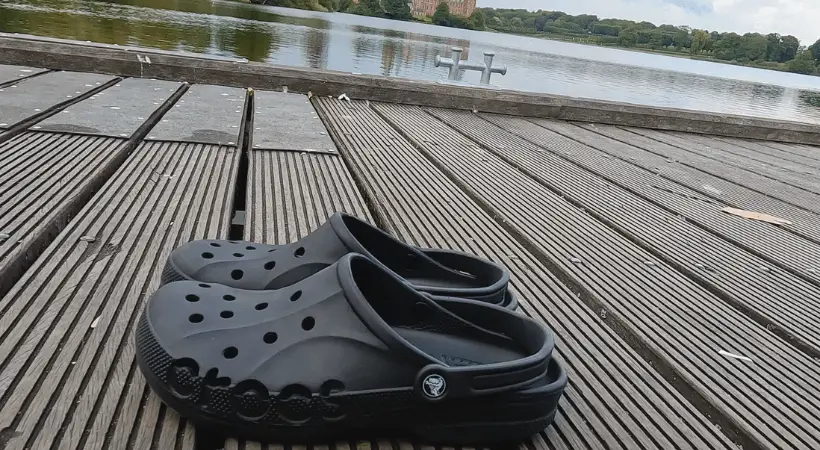 Crocs, which began in Boulder, Colorado, as a classic comfy boat shoe, are now available in over 120 footwear varieties for men, women, and children worldwide. They are primarily known for their lively, ultra-light, and comfortable design that is suitable to wear all year round.
All Crocs are built with the exclusive closed-cell resin Croslite material, which provides every shoe with the supple, ergonomic, and odor-resistant properties that Crocs fans admire the most. The Croslite technology, along with the perforations, enables optimum cushioning and is believed to repel odor and bacteria development.
Aside from the classics, Crocs are available in a wide range of materials and designs. You can try out white, canvas, fuzzy, wedged, suede, elastic, leather, and woolen Crocs to jazz up your style statement.
4 Most Effective Methods for Cleaning Crocs
Out of numerous available techniques to make your Crocs look span new, we've cut it down to the top four cleaning methods that are quick and easy in removing the dirt, dust, and junk from your Crocs in no time.
Hand Washing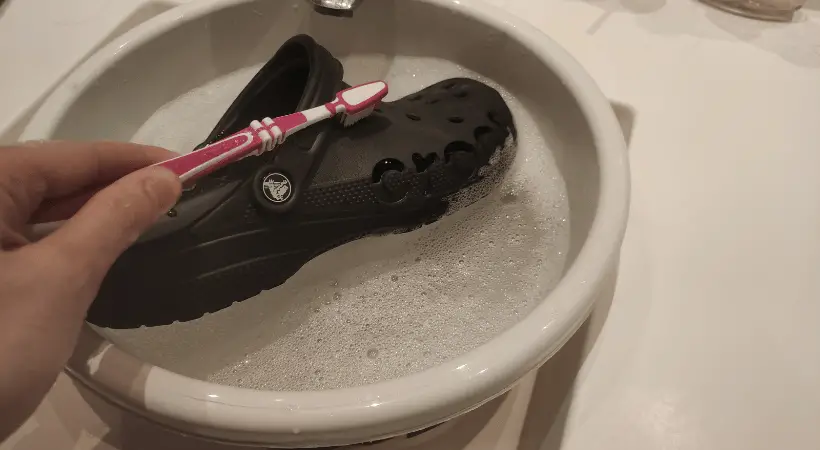 One of the most efficient methods you can never go wrong with is hand washing Crocs. Being the no.1 recommended method by the Crocs manufacturers, hand washing Crocs works well on classic, white and fuzzy Crocs, and the cleaning gets quicker with our step-by-step guide.
Things You'll Need:
Microfibre cloth
Dish soap or mild detergent
Soft bristle toothbrush
Tub of cold water
Steps to Take:
Mix a few drops of dish soap or a mild detergent in a tub of cold water.
Soak your Crocs in the mixture for around 10 minutes.
Use a soft bristle toothbrush or microfibre cloth to scrub the marks on the Crocs in a circular motion.
Rinse it off in cold water.
Let it air dry.
Washing Machine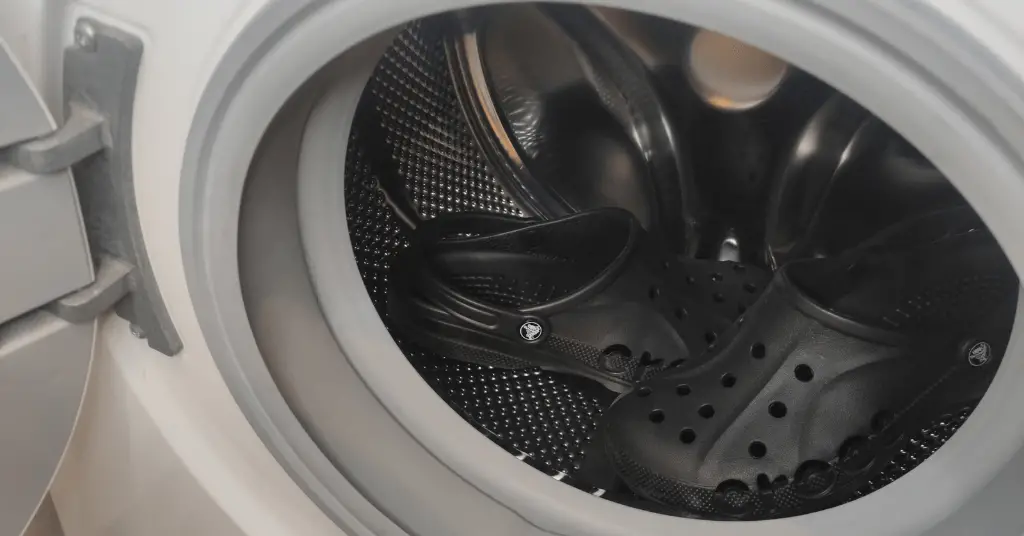 Most people are often skeptical about washing Crocs in a washing machine. If you use a gentle wash cycle and a low temperature setting (86°F or lower), you don't need to fret over your Crocs getting deformed or shrunk in the washer.
This method works effectively on Croslite, white, canvas, and woolen Crocs. Avoid using this method for leather, suede, or faux fur Crocs, as it can lead to irreparable damage.
Things You'll Need:
Mild washing liquid
Bleach (optional for white Crocs only)
Washing machine
Steps to Take:
Rinse your Crocs under tap water to remove any excess dirt.
Insert your Crocs into a mesh bag (optional) and put them in a washing machine.
Set your washing machine to a gentle mode with total duration of around 1 hour or lower.
Set the program's temperature to 86°F and spins to 400 rpm or lower.
Add a bit of mild washing liquid and optionally some white vinegar.
Start the washing machine cycle.
Once it is complete, remove your Crocs and place them on a drying rack to let your pair air dry.
Magic Eraser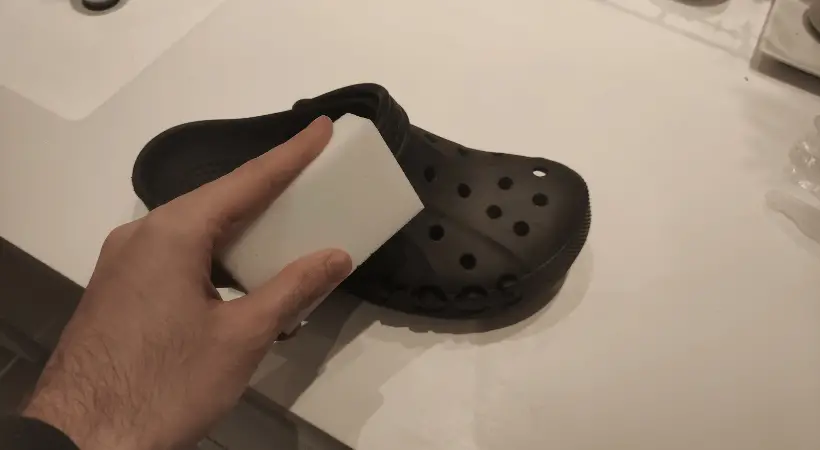 Magic eraser is truly a quick fix for all those little smudges on your Crocs. It consists of melamine foam that acts like sandpaper to grit down the soiled particles on the Crocs' surface. The gentle circular magic eraser scrubbing can help to get rid of tougher dust and grass stains on your dirty Crocs.
Things You'll Need:
Magic Eraser
Water
Damp cloth
Steps to Take:
Wet the Magic eraser sponge in cold water to activate the foam particles.
Squeeze out the sponge for excess water.
Scrub it in a gentle small circular motion on your Crocs upper and outsoles.
Once scrubbed, wipe it with a fresh, damp cloth to clean off any remnants.
Let your Crocs air dry.
Crocs Shine
This cleaning method is quite effortless and only requires a few strokes to make your Crocs shine bright. It is designed carefully as a polish sponge applicator that removes grime buildup and renews the natural glow of the Crocs material. The applicator has an in-built restoration solution that leaks every time you brush a stroke.
Things You'll Need:
Steps to Take:
Rub the sponge applicator across your Crocs.
Apply light pressure and continue for a few strokes.
Remove excess polish using a dry towel or soft cloth.
How to Clean Dirty White Crocs?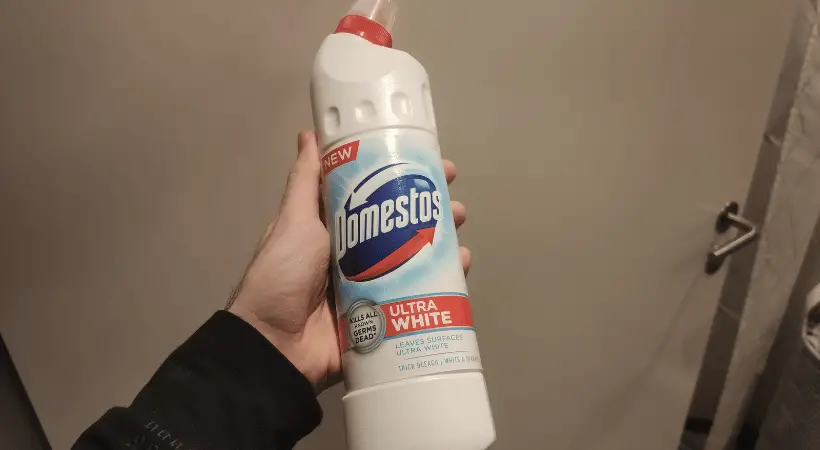 White Crocs lose their white sheen with constant wear and tear over time. Hence, keeping them spic and span requires weekly cleaning with mild soapy water. For white Crocs that develop a yellowish tinge, bleaching them can be an excellent method to restore the bright white color. However, regular chlorine bleach can be slightly abrasive on the delicate white Crocs material, which is why oxalic bleach can help to clean the dirty Crocs and make them sparkling white.
How to Clean Fuzzy Crocs?
Fuzzy Crocs are the ultimate winter footwear need. The furry fleece lining keeps your feet warm while providing comfy cushioning to your soles. Most fuzzy Crocs come with a detachable faux fur lining, and removing it first helps to deep clean the Crocs.
Cleaning fuzzy Crocs is quite similar to washing regular Croslite Crocs. You can choose to hand wash or simply toss them into the washing machine on a gentle cycle. Either way, you should remember to re-fluff your fuzzy Crocs using a hard-bristled brush after every wash.
How to Clean Jibbitz Charms?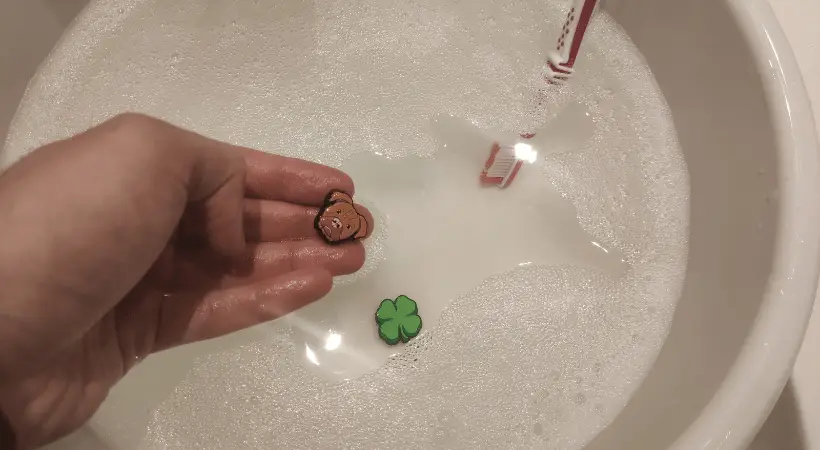 Who would want to put gunky old jibbitz charms on Crocs that are all pristine and sparkling? Most jibbitz charms are built of rubber or polymer, and the easiest way to maintain their vivid colors is by washing them with soapy water or with a magic eraser. After washing, you should preferably air dry the jibbitz to restore their original shine and vibrance.
Getting Rid of Foul Odor in Crocs
Even though the Croslite material is capable of preventing bacterial growth, wearing your Crocs all day can eventually lead to foot funk. Here is when baking soda can come in handy and help you deodorize your Crocs. Baking soda efficiently absorbs foul smells, making it a powerful treatment for shoe odor, and using it should not harm your Crocs whatsoever.
To make a quick mix, take equal quantities of vinegar, water, and baking soda. Use a soft-bristle brush to apply the mixture over your Crocs. Let it rest for a few minutes, and rinse it thoroughly under tap water. If you have extra time, you can place your Crocs in a ziplock plastic bag with generous amounts of baking soda and store it in the freezer overnight. Take them out and brush off any excess baking soda. Repeat this technique every time your Crocs start to smell.
Suitable and Unsuitable Cleaning Methods for Different Crocs
As we've mentioned, there is a variety of Crocs types out there. The effectiveness and safety of the cleaning techniques greatly varies from material to material.
Here is an overview that will allow you to easily differentiate between the most and least suitable cleaning techniques for whichever Crocs type that you own.
Regular
White
Tie-Dye
Fuzzy
Leather
Suede
Canvas
Wedges
Woolen
Hand Washing
Yes
✓
Yes
✓
Yes
✓
Yes
✓
No
X
No
X
Yes
✓
Yes
✓
Yes
✓
Washing Machine
Yes
✓
Yes
✓
Yes
✓
Yes
✓
No
X
No
X
Yes
✓
No
X
Yes
✓
Bleach Soak
No
X
Yes
✓
No
X
No
X
No
X
No
X
No
X
No
X
No
X
Baking Soda
Yes
✓
Yes
✓
Yes
✓
Yes
✓
Yes
✓
Yes
✓
Yes
✓
Yes
✓
Yes
✓
Magic Eraser
Yes
✓
Yes
✓
Yes
✓
Yes
✓
No
X
No
X
Yes
✓
Yes
✓
Yes
✓
Clorox Wipes
Yes
✓
Yes
✓
No
X
Yes
✓
No
X
No
X
No
X
No
X
Yes
✓
Suede or Leather
Cleaner
No
X
No
X
No
X
No
X
Yes
✓
Yes
✓
No
X
Yes
✓
No
X
Damp Wipes
Yes
✓
Yes
✓
Yes
✓
Yes
✓
No
X
Yes
✓
Yes
✓
Yes
✓
Yes
✓
Vinegar
Yes
✓
Yes
✓
No
X
Yes
✓
No
X
No
X
No
X
No
X
Yes
✓
Toothpaste
Yes
✓
Yes
✓
Yes
✓
Yes
✓
Yes
✓
No
X
Yes
✓
Yes
✓
No
X
Risks of Using Wrong Techniques for Cleaning Crocs
Nobody wants to ruin their favorite pair of Crocs while washing, and this is why you should put in extra care and caution while cleaning Crocs. The Croslite material is quite sensitive and prone to eroding when it comes in contact with abrasive chemicals, harsh bleaching substances and detergents. Hence, using wrong techniques like bleach on colored Crocs can wreak havoc and leave you with a destroyed pair of shoes.
Crocs are also extremely vulnerable to heat and become malleable if exposed to it. The high temperature or hot water settings in a tumble dryer, washing machine, dishwasher or even from direct sunlight can cause your Crocs to shrink, leaving you with tight, uncomfy shoes. Thus, avoid using dishwashers and dryers due to their high heat settings. Also, don't place your Crocs under the sun for longer periods, that may also cause shrinking. Instead, you can always leave them to air dry or simply pat dry using an absorbent kitchen towel.
How to Unshrink and Stretch Crocs?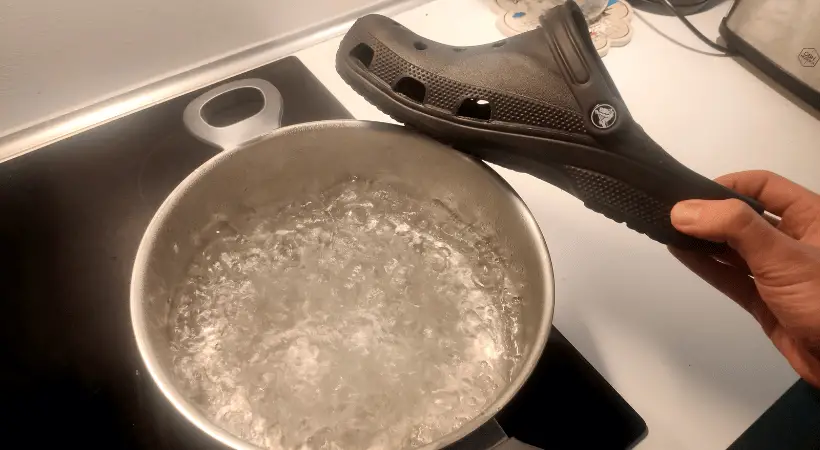 If your Crocs have shrunk, and are too tight for your feet, don't lose hope! There are plenty of easy fixes to unshrink Crocs to fit your size.
The easiest way to stretch your Crocs is by immersing them in hot water for roughly a minute. Then taking them out and putting them on while wearing a few pairs of socks to adjust them according to your enlarged feet size.
How to Dry Crocs?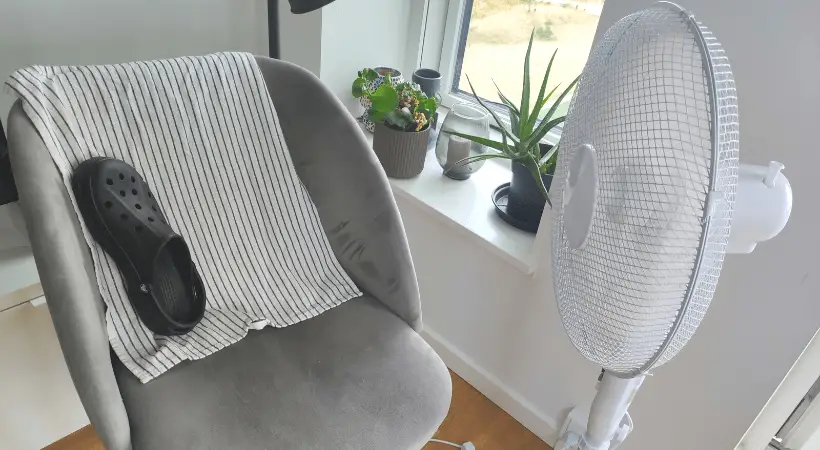 The process of drying Crocs is equally as important as washing them. A faulty drying procedure might severely harm your Crocs. As mentioned, never use a tumble dryer, hair dryer or anything that emits heat to dry your Crocs.
The best and safest method is to dry your Crocs using an absorbent cloth, or by placing your Crocs in front of an electric fan.